The ground floor of the main house features a large living room with a stone fireplace, a separate dining area and kitchen, and one bedroom and bath. The upper floor offers three large bedrooms and one small bedroom, as well as two additional baths
A lovely 5-bedroom, 3-bath converted French farmhouse on a hilltop in the heart of the Calvados region of Normandy.
This meticulously restored former apple-pressoir, with modern plumbing, electrical and hot-water heating systems, is the perfect vacation retreat for up to two families. Located on sixteen private acres of orchard and forest with multiple garages and outbuildings, the estate provides ample space for wandering while maintaining a peaceful and quiet atmosphere. A small swimming pool is available for kids of all ages.
The estate is located 3 minutes' drive from the picture-postcard village of Le-Breuil-en-Auge, 8 minutes from excellent shopping at Pont-L'Evêques and Lisieux, 20 minutes from the stylish resort towns and beaches of Deauville and Trouville, and 1.5 hours away from Paris. The immediate area offers superb local dining and fascinating regional history.
The historic house is fully furnished and most pieces are Norman antiques, in keeping with the era of the house's construction and the distinct regional exterior architecture. Small goods such as linens and dishes are included, as is weekly housekeeping service. $2,900/week, or $8,000/month (Please emailMail@ChateauTivoli.com for details.)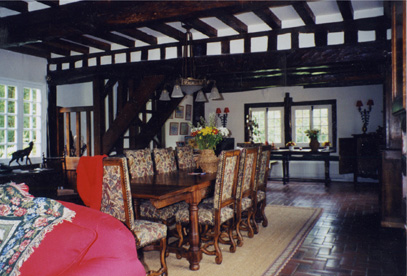 The dining area on the first floor.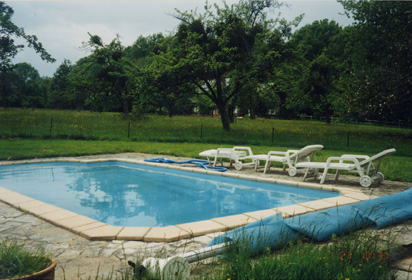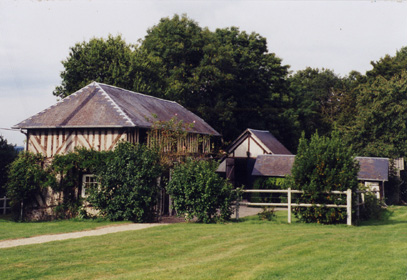 The barn (with laundry), garages and other outbuildings.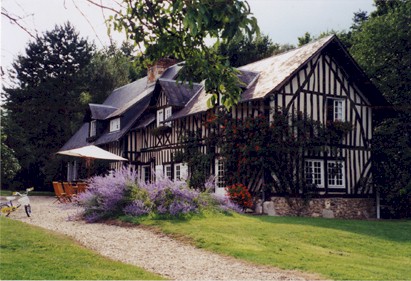 Another view of the house.